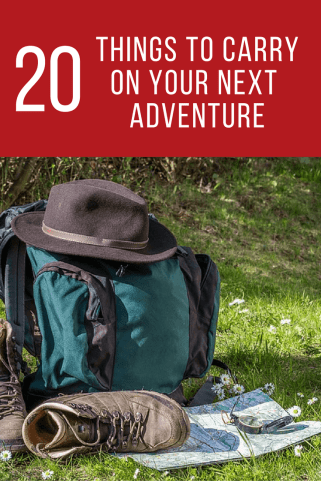 No matter how well traveled you are, it is almost certain that you are going to leave behind something or the other while packing your stuff. There can be no bigger pain than landing in a new country, only to discover an important item you have left behind. Then there is the added trouble of running around in an alien territory, looking for the things you missed in all the excitement and rush. To safeguard against such annoyances, it is better to keep a check list of the most frequently forgotten holiday essentials.
1) First aid box
This survival box contains waterproof portable essentials and equipment for any medical emergency. This small and lightweight kit can fit anywhere in your bag and is easy to carry. The box comes in a light and compact durable nylon case, which is tough and gives the traveler the ultimate peace of mind.
2) Folding toothbrush
This set of folding toothbrushes is ideal for travel, because once you are out of home, the toothbrush does not get dried properly. This causes the bristles to become unhygienic, a problem which is easily overcome by folding the brush head to keep it clean and dry.
3) Travel pillow
The travel pillow is not only comfortable, but provides adequate support for your chin as well as the neck, while at the same time giving proper cushion to the sides. With improved designs available these days, a travel pillow actually allows a person to sleep on the cramped planes and buses.
4) Travel adapter
This is one item which is left out inadvertently from the packing list the most number of times. If your hotel has a spare one, you might get lucky, but that is seldom the case. Going out to a buy one will be next to impossible, especially if the voltage is not suitable for that country. It is best to carry a multi purpose adapter which can operate anywhere.
5) Portable power bank
With a camera, GPS and other apps in tow, batteries are bound to die faster than before. It is essential to carry a portable power bank, to keep your phone, tablet, ipod and camera charged. Just imagine you lose your way and do not know the way back to the hotel. A DB Power portable power bank is always considered to be a life safer.
6) Passport holder
This passport holder is a must for frequent travelers and those who wish to keep all travel documents in a safe place. This seven slot holder is made of the finest leather. The inbuilt RFID function, keeps all your passports, ID and bank cards safe and secure.
7) Compression travel socks
A real life saver on the long haul flights, these specially designed compression socks impart gradual compression for ultimate comfort. Useful for extended sitting periods and sport functions, this accessory makes travel easier and safe.
8)  Ear plugs
The ear plugs help in reducing pressure and pain in ears during the landing and takeoff of flights. They are also handy when present in high altitude places,especially while driving on mountain roads where you are prone to altitude changes. Easy to insert, they assist in relieving headache, vertigo,ear popping and even nausea.
9) Money belt
A money belt not only conceals your cash and other valuables, it safeguards them from theft as well. It is absolutely necessary for crowded markets,airports, busy outlets, sporting avenues and trains. Since they are made from lightweight material, they remain practically invisible, with the soft elastic belt suitable both for men and women.
10) Razor for women
This razor blade for women has 5 blades to take out the last piece of hair for that ultra soft feeling. It has a mini handle, easy to operate and store after use. A pivoting head is perfect for the hard to reach areas. Portable and compact to fit easily in your purse or suitcase.
11) Toiletry kit
A toiletry kit is ideal for a long vacation or even an overnight trip,with plenty of storage pockets. From toothbrush, toothpaste and combs it can store all in proper compartments with zips.
12) Mini Curling iron
A mini curling iron is a must have, especially for female travelers. My fave is this unique mini curling iron from Conair, that can be used throughout the world as it has a dual voltage machine. A perfect travelling companion to achieve beautiful curls on the go. The inbuilt technology provides heat evenly on the hair for gentle and faster styling. Can be carried in a convenient travel pouch.
13) Collapsible water bottle
A collapsible water bottle is the best way to keep constantly hydrated and healthy. Made of a thick silicone body, can be conveniently rolled up for compact travelling. These bottles are absolutely leak proof and have a capacity of 22 fluid ounces, usually with a lifetime warranty.
14) Compact wipes
This lightweight, durable and compact towel set is a must for an outdoor trip like, camping, hiking, fishing or others. They are gentle on the body and can be used up to twenty times. Easy to carry in a purse or diaper bag.
15) Travel Bra
A travel bra is an absolute essential for safeguarding your valuables. With a pocket for your passport, credit cards and cash all tucked in safely underneath your clothes, you can carry your valuables close to your heart at all times.
16) Travel Clothesline
The best carry on item to dry and rinse out your clothes after a swim or wash. The simple drip and dry system gives peace of mind, especially when the weather outside is bad. This also means you can travel light and save on baggage costs by simply washing clothes on longer trips.
17) Travel kit
If you have left this at home, your vacation is surely going to turn sour. A small packet saves you time and money from buying items at other places. This is because it comes with 2 approved travel locks, soft ear plugs,eye mask and an inflatable neck pillow.
18)  Shoulder bag
A small shoulder bag, which is slash proof and has the same safety benefits of larger bags is a boon. With adjustable shoulder straps, a main compartment with a lock and a LED light, this bag is made of soft fabric and is my pick for the ultimate travel shoulder bag.
19) Luggage links
Travelling alone with multiple bags in tow? Please remember to carry your luggage link, the only easy way to carry multiple bags. A luggage link, once snapped to your roller bag, will leave enough space for a laptop bag, purse and even another roller bag. With added pockets for phone and wallet, this is an ideal accessory for air,bus and rail.
20) Deluxe pill organizer
A must for the traveler, especially  those on medication. You will like the compartments and spaces for medicines, which are removable and have locking enclosures and medical information card. Plus you can divide them by the day as its easy to forget your meds, when you are having so much fun on the road.
Travel essentials can always be a headache, especially when you want to travel on a fun vacation and miss one of them back home. So either you are ultra organised or you simply make a list of the products above to relieve yourself of your travel dilemma.
Disclosure – This post was originally published on Wander With Jo.