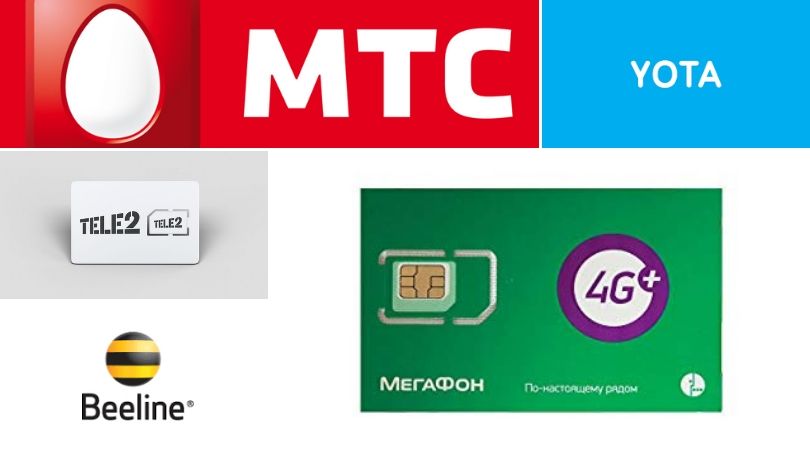 If you're planning to make a short trip to Moscow or St. Petersburg, likely, you don't need SIM card because hotels usually have Wi-Fi and so do cafes, restaurants, and public areas. Using the Wi-Fi, you can make WhatsApp calls, and text at the same time. But if you're planning an extended stay in Russia or you're on the Trans-Siberian trip, then it's worth purchasing a Russian tourist SIM card. Using your home phone network gets expensive. A local tourist SIM will help you cut down your phone bill expenses.
There are several Russian tourist SIM cards which offer a great deal of data. Calls to India, however, are costly. This post explains the best Russian tourist SIMs for Indian travellers and the options available.
Documents Required
To acquire a SIM card in Russia, you need to produce your passport. With your passport, you shouldn't have any problem purchasing a SIM.
Availability
All the mobile phone carriers have an extensive network of stores that are easily recognizable on the street. You can buy a SIM from official stores or approved sellers. You can also purchase a SIM from the airport, near metro stations, and shopping streets. Credits can be purchased from the same retailers and convenience stores across the country.
Phone Carriers in Russia
There are five leading operators in Russia: MegaFon, Beeline, Tele2, MTS, and Yota. Most of the country has a good network signal. Some of the northern regions can suffer from poor reception. There are a few approved resellers of the telecom mentioned above companies. They operate as MVNOs.
List of MVNOs in Russia
• Aiva Mobile
• Allo incognito
• Almatel
• Atlas
• Central Telegraph
• Danycom Mobile
• Easy4
• Ekomobile
• MCN Telecom
• MGTS
• Rostelecom
• Sbermobile
• Tinkoff Mobile
• Virgin Connect
• Wifire
Best Russia SIM card for Indian Travelers
The Russian Federation is divided into 85 federal states, which sometimes use different plans. Therefore, it gets difficult to list all the deals. Here's the list of best offers that can be purchased in main cities like Moscow.
Network
Megafon
MTS
Beeline
Tele2
Yota
Name of the Product
Hello Bundle
Super MTS
Welcome Prepaid
Classical
Yota for Smartphone
Price
750 RUB
0 RUB
700 RUB
0 RUB
880 RUB
Incoming
Free
Free
Free
Free
Free
Outgoing Local
30 mins
3.50 RUB/minute
12 RUB/minute to other networks
30 minutes (post usage 5RUB/minute)
2 RUB/minute in home region
3 RUB/minute to Tele2 networks
9 RUB/minute around Russia
2000 minutes
Outgoing India
75 RUB/minute
80 RUB/minute
30 RUB/minute
69 RUB/minute
70 RUB/minute
SMS local
4 RUB/SMS
2 RUB/SMS
2 RUB/SMS
1.50 RUB/SMS in the home region
3.50 RUB/SMS across Russia

Unlimited
SMS India
9.90 RUB/SMS
8 RUB/SMS
8 RUB/SMS
5.5 RUB/SMS
8 RUB/SMS
Data
30 GB
100 MB (post usage 25 RUB/20 MB)
Unlimited in the Beeline network
200 RUB/110 MB

3 GB/200 RUB
12 GB
Validity
14 Days
30 days
14 days
–
30 days
Notable Info
No data usage for FB, Instagram, Snapchat WhatsApp, and Viber
Dial *100# to check your balance
Dial 05001374 to activate #Hello bundle
No Obligatory payments
You can check the remaining minutes and
the internet traffic included in the subscription fee by calling *102#.
No subscription fee
Unlimited access to "WhatsApp", "Instagram"
Buying a Russia SIM card in India
Though Russian SIM cards are easily available at the airports and across the country, making calls to India is still expensive. If you'd want to make cheaper calls to India then we have a SIM for you which is economical than the local SIM cards.