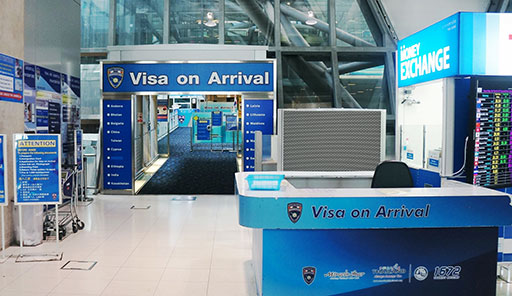 Here is a list of 6 things you must know before going to Thailand if you are going on visa on arrival.
1. Currency Exchange.

It's a rule that for visa on arrival in Thailand, you need to carry minimum 10,000 Thai Bahts. In most cases, they don't check it, but why take risk? Sometimes, the immigration police suspects first time visitors and perform a sudden and random inspection upon just getting down from the flight. They may ask you to show documents, passport, cash, tickets, etc. So, be prepared and don't take a chance.
2. Must Have A Return Ticket

When you are planning to visit Thailand you must have your return ticket done because at the boarding counter of the departure flight in India they will ask you the return ticket and also when at the visa on arrival counter. The return ticket is a must for visa purpose and you will be denied on arrival visa in case of no return ticket. So better to have a return ticket done at the earliest.
3. Passport Size Photo

Be careful about the passport size photo because they require special specifications for the photo. The photo must be of white background, 80% face area, clear and must be a coloured photo , further the photo must not have any border. In the visa form, size mentioned is 6c×4
4. Pre-Download the VOA Form

And the fourth one is you can download the visa on arrival form from their website. It will save your time at the airport and prevent the harassment of being in long queues at the airport.
You can download the Thailand Visa On Arrival form here Download
5. Keep Safe the Arrival-Departure Card

When you are in flight to Bangkok or Thailand you will be given arrival departure card in the flight and it has two parts, one part will be submitted at the immigration counter and the second part which you will have to keep safely till your exit from Thailand. Do not miss this slip or the arrival card otherwise you will be in a great problem while exiting from Thailand.
6. Don't Overstay!
Don't overstay in Thailand otherwise be ready to pay a fine of Rs 2000 per day. Take the permission form Royal Thai Embassy if necessary. Thailand visa on arrival permits you to stay upto 15 days only. If you need to stay even more, apply for pre visa from Thai Embassy located in your country.
Disclosure – This post was originally published on Travel With RD