Buying a prepaid German SIM card in Germany is often difficult for tourists due to insistence on local address by some vendors, and language barriers.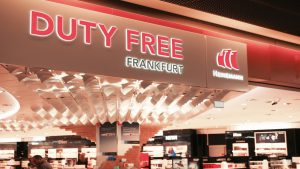 Documents required for buying a prepaid German SIM card
For pre-paid SIM cards, the retailer has to see and put on record official ID, i.e. the passport or national ID card. Unfortunately, many stores require you to have a local address. Foreign addresses are often not accepted. If you do not have a German address, try to use your name with c/o name and address of someone else, e.g. the hotel you'll stay. This may not be accepted always.
Availability
Prepaid German SIM cards are available at airports like at Frankfurt Airport e.g O2 Shop is located at T1, Area B, Level 1. The most convenient way to purchase a SIM card for a visitor is to go to one of the big supermarket, drugstore, service station or electronic market chains. Buy top-up vouchers called Ladebons in many stores with a PIN to enter. Go to one of the three drugstore chains (Rossmann, Müller, dm) or to cash and carry markets like "real" to top up most brands. You can use MNOs vouchers for MVNOs e.g.Vodafone vouchers for Otelo, Fyve, Edeka and LIDL Connect.