Buying a prepaid German SIM card in Germany is often difficult for tourists due to insistence on local address by some vendors, and language barriers.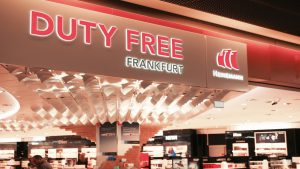 Documents required for buying a prepaid German SIM card
For pre-paid SIM cards, the retailer has to see and put on record official ID, i.e. the passport or national ID card. Unfortunately, many stores require you to have a local address. Foreign addresses are often not accepted. If you do not have a German address, try to use your name with c/o name and address of someone else, e.g. the hotel you'll stay. This may not be accepted always.
Availability
Prepaid German SIM cards are available at airports like at Frankfurt Airport e.g O2 Shop is located at T1, Area B, Level 1. The most convenient way to purchase a SIM card for a visitor is to go to one of the big supermarket, drugstore, service station or electronic market chains. Buy top-up vouchers called Ladebons in many stores with a PIN to enter. Go to one of the three drugstore chains (Rossmann, Müller, dm) or to cash and carry markets like "real" to top up most brands. You can use MNOs vouchers for MVNOs e.g.Vodafone vouchers for Otelo, Fyve, Edeka and LIDL Connect.
Activation and registration
By law, all SIM cards need to be registered first to be activated. Registration is not often done in shops but online or by phone. Phone activation can be tricky too, because of the language. Online registration is usually in German only, but possible with the help of an online translator. Look for the words registrieren or freischalten on their website and keep phone and SIM numbers ready.
Registration can take some minutes up to a few hours, until your SIM card finally connects with the network. You may need to switch off and on your device to connect.
Mobile Carriers
There are now only three network operators in Germany and number of MVNOs listed in the table. Many MVNOs offer low per minute rates to call internationally, but then charge a large connection fee at the start of each call.
Deutsche Telekom (formerly known as T-Mobile)
Vodafone
O2
MNOs

MVNOs

Deutsche Telekom

congstar

Lebara mobile

ja!mobil

Penny Mobil

Vodafone

Otelo

Fyve

EDEKA mobil

Lycamobile

LIDL Connect

O2

ALDI Talk

Blauworld

NettKOM

Ortel mobile

WhatsApp SIM

AyYildiz

FONIC

NetzClub
Best packages for travelers from India:
Network

Blau

Vodafone

O2

Name of product

Blue 9 cents

CallYa Talk & SMS

O 2 Blue Basic Kombi

Price

€ 9.99

9.99 €

4.9 €

Incoming

Free

Free

Free

SMS local

9 cents / SMS

9 cents / SMS

200 MB

International SMS

13 cents / SMS

29 cents / SMS

29 cents/SMS

Call local

9 cents / minute

9 cents / minute

·         Unlimited free calls to the O 2 network

·         50 minutes to all networks

International calls

99cents/ minute

15 cents per call

·         Call up to 5 numbers India for just 15 cents/minute

·         one-time fee of € 5

Data

0.23 / MB

1.49 Euro / day

200MB

Validity

1 month

1 month

1 month

Currency

Euro

Euro

Euro

Other notable features/information

Please top up 9.99 € to the SIM card to get above packs

       Please top up 9.99 €to the SIM card to get above packs.

       Please top up 4.9 €to the SIM card to get above packs.

Link to product
Prepaid German SIM card in India
Of course, if you would rather buy the SIM before travel so that you do not have to go hunting, or are traveling to multiple countries on the region, or would like to know your number before you travel, we have a
 prepaid German SIM card 
for you.