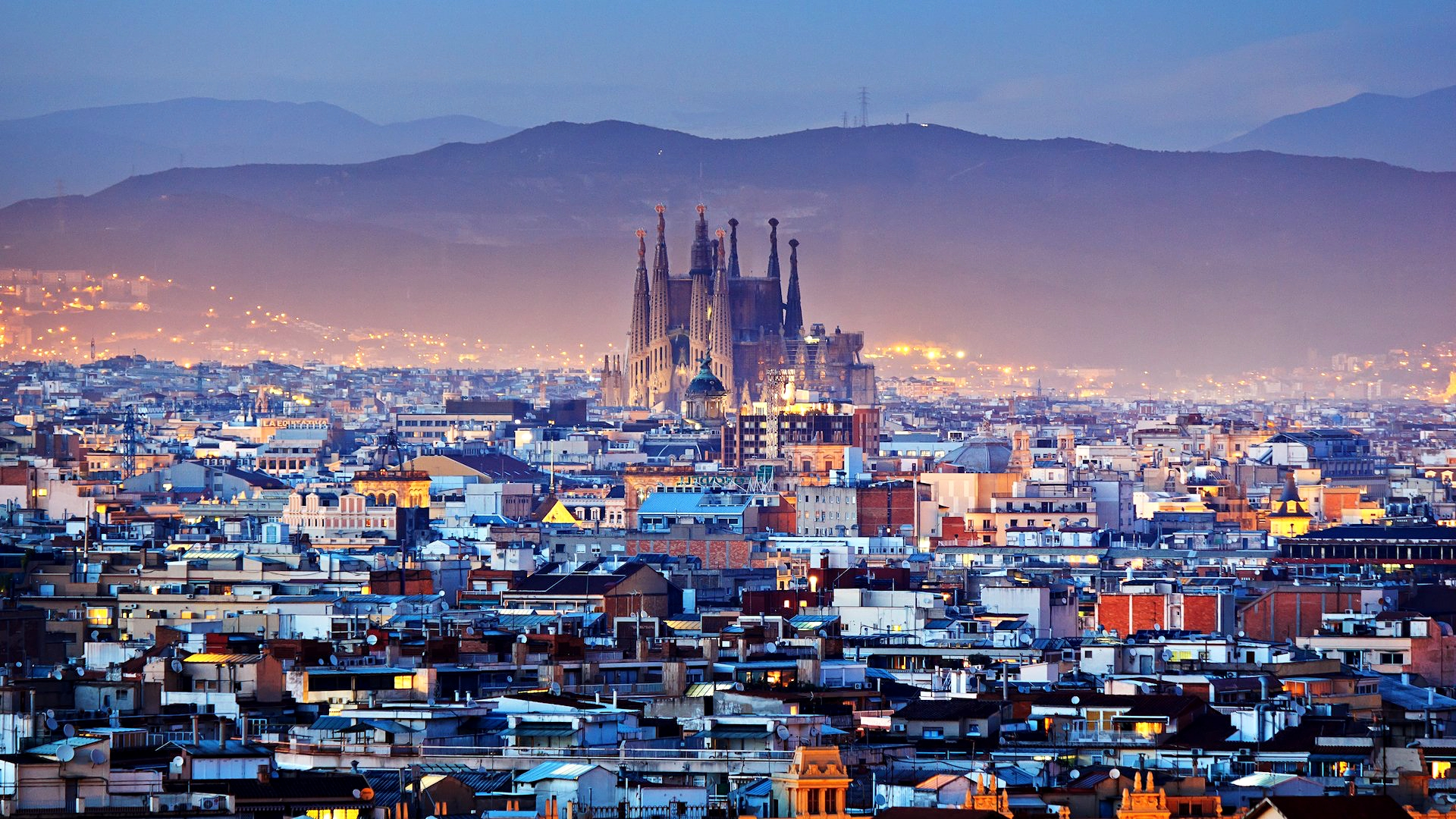 Barcelona is among Europe's most visited cities, and it's easy to see why – the historic capital of Catalonia is packed with galleries, museums, attractions and thriving restaurants. Set between the mountains and sea, the city is celebrated for its unique architecture, famous artists and urban beaches.
The 7 best Barcelona guided tours
With so much to do, which are the essential guided tours and things to do in Barcelona? To answer just that, we've listed the 7 best guided trips in Barcelona plus insider tips to help you plan better, spend less and get more time in Barca. Let's begin!
7. Barcelona: Hop-on Hop-off Bus Tour
Sit back and relax on an open-deck double-decker hop-on hop-off bus. See all the major sites of Barcelona, hopping on and off at your leisure. The open-top double-decker tour bus runs on 2 different routes and cover 40 stops. You can see the major attractions sitting in the bus, hopping off at places that interest you, then jumping back on the bus to continue the route.
The bus has Wi-Fi on board and pre-recorded audio commentary about the upcoming attractions. The Hop-On-Hop-Off Bus Tour is ideal if you wish to explore Barcelona's top sites independently and a great way to get between places.
6. Explore Barcelona's Food Markets

One of the most authentic ways to explore a culture is to visit the local food market. Barcelona boasts some of the greatest food markets in the world. Your expert guide will first take you on a visit to La Boqueria, the finest market in Barcelona for fresh products such as meats, fish and vegetables.
Next, you'll visit your first tapas stop. Your guide will also take you to visit Santa Caterina market, which is particularly interesting because of its architecture, including its wavy and colorful roof.
Do tell your guide what you like to eat, and you'll be shown some of the most popular local restaurants, offering up the most delicious foods that are beautifully presented. Veg menu options are also available upon request.
5. Admire Catalonia's Natural Landscape in a Hot Air Balloon
On this hot air balloon ride you'll get to experience the beauty of the Montseny Natural Park region from a unique vantage point. On a clear day, it is possible to see you will be able to see Montserrat, Barcelona, and the Mediterranean sea.
Upon reaching the take-off spot you can participate, hands-on, in inflating your hot air balloon. Once in the air, the ride will last for a little more than an hour.
Celebrate the flight at the landing spot with a Cava toast and brunch. What's more, you receive a first flight certificate signed by the pilot which makes for a great souvenir.
4. Barcelona and Sunset on a Sailboat
Enjoy a new perspective of the city while basking out in the ocean Sun. Your guide will point out the Sagrada Familia, the Tibidabo and more as they appear in sight. Learn how to sail the boat, or just swim and relax.
You can try paddle boating, just float about using floating toys onboard or brave it and take a dip in the clear water of Barcelona. Sunset on a sail boat is a beautiful experience and runs with a small group of up to ten people.
3. Visit to the Montserrat Monastery with Lunch at a Farmhouse
This is a fully-immersive experience with a guided visit to the Monastery of Montserrat and a 3-course menu, while enjoying the breathtaking views of the region. We begin in the upper part of Passeig de Gràcia.
Then journey to Montserrat – Catalonia's emblematic mountain topped by a Monastery which was founded in the 10th century and still functions with 150 monks to this day. Your guide will share Monastery's history, which dates back nearly a thousand years.
Next, we visit a farmhouse with stunning views. Enjoy a delicious 3-course menu; consisting of salad, barbecued food (with vegetarian options), and dessert. Following this adventurous day, we return to the center of Barcelona. Transportation to and from the city is included.
2. Guided Tour to Park Guell with Skip-the-Line Access
Park Güell is an enormous garden with stunning and distinct architectural elements designed by the renowned Catalan architect, Antoni Gaudí. Learn about Gaudi's enduring works and take a stroll through the art of a century.
We visit the garden complex of Park Guell on Carmel Hill on a walking tour with an expert guide (from Barcelona Tourism Authority). Skip-the-line tickets for priority entrance are included in the tour. So you can walk right past the ticketing que at the entrance.
1. Sagrada Familia
The Sagrada Família, is Antoni Gaudí's magnificent masterpiece which has been under construction for more than 130 years. Gaudí intended for the interiors to feel like a walk through the woods, with the light exuding a sense of sifting through forest leaves.
The tour explores the Basilica's dream-like façade and interior accompanied by an expert guide. Learn about the generations of craftsmen who have learned how to bring Gaudi's vision to life. Marvel at the intense colored light from the stained glass windows and the branch-like columns extending over the ceiling.
Exit the Basilica and visit the Sagrada Familia Museum, where your guide will share original sketches and plans with you that demonstrate the complexity of Gaudi's architecture and vision.
The Sagrada Familia though unfinished, is an epitome of passion, architectural mastery and a carrying symbol of Catalonia.
More unique ways to explore Barcelona
Tips to make the most of your Barcelona trip
Fly in to the correct Barcelona airport
Many of the 'Barcelona' named airports are actually far away from the city. Barcelona Reus and Barcelona Girona are both dozens of kilometers away. So what you save in air fares may soon be lost in the form of transport time and train tickets to reach Barcelona main city. Try and book your tickets to Barcelona El Prato whenever possible.
Use the Barcelona metro as much as you can
Boasting a well-connected network of 12 lines and over 160 stations, the Barcelona Metro is a convenient way of getting around the city. Taking the metro is pocket-friendly and lets you avoid all the traffic.
Stay close to the city center
While it can be tempting to opt for a cheaper accommodation further away from the center, you may end up compromising on comfort and spend a lot more travelling to and fro.
It's easy to find free Wi-Fi across Barcelona
Barcelona has a good network of free Wi-Fi with hundreds of access points across the city. Hotel and restaurants usually offer free Wi-Fi as well.
Most shop and markets are closed on Sundays
In case your Barcelona trip starts or ends around the weekend, it is helpful to know this. Get the supplies and do the necessary souvenir shopping in time.
Get a Barcelona City Pass to get around town easily