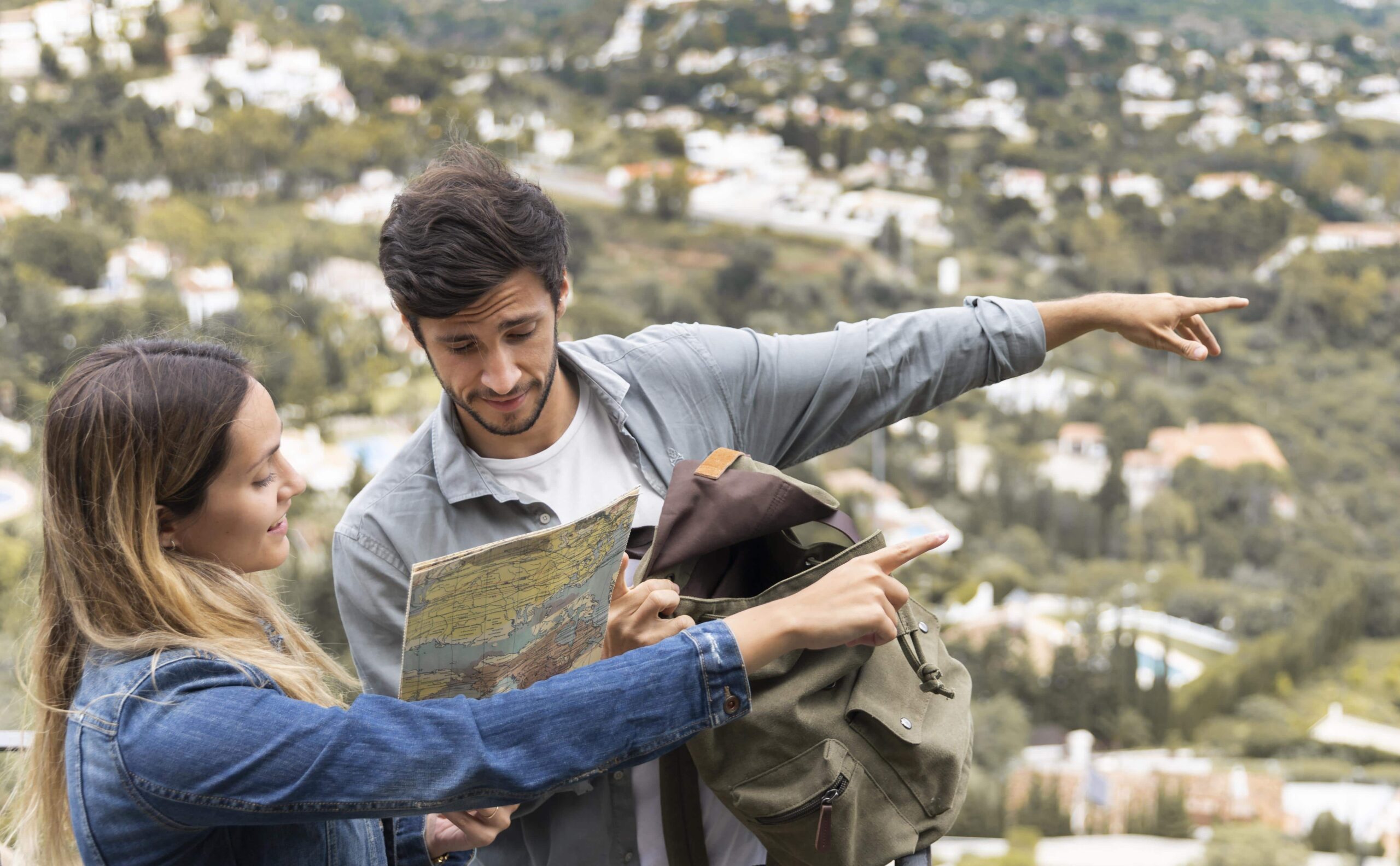 For many travelers, a trip to Spain ends with Barcelona and Madrid. But if you're reading this, we're hoping you won't book your return tickets without visiting Seville – the Pearl of Andalucia.
Seville is a city full of gorgeous architecture, vibrant history, and wonderful food. There is the vibrant Flamenco scene, the Moorish architecture, the picturesque plazas and some of the country's best and most innovative tapas bars. And the best way to see it all is with a local travel guide. Here's why!
Why Book a Guide?
On your very first day in Seville, you'll realize just how big this small city really is!
The narrow lanes of Seville are also home to many hidden gems – small plazas, courtyards, and fountains, that are often overlooked by travelers. Just walking the streets can lead to discovering quaint shops selling artisanal products, hidden churches with beautiful artwork, and charming squares that come alive at night with music and dance.
And that is why there's no better way to discover Seville than with a knowledgeable local guide. With a guide by your side, you'll be able to see the most iconic Seville landmarks, as well as discover its lesser-known treasures that you may have otherwise missed.
How a Local Guide can make your Seville trip truly memorable!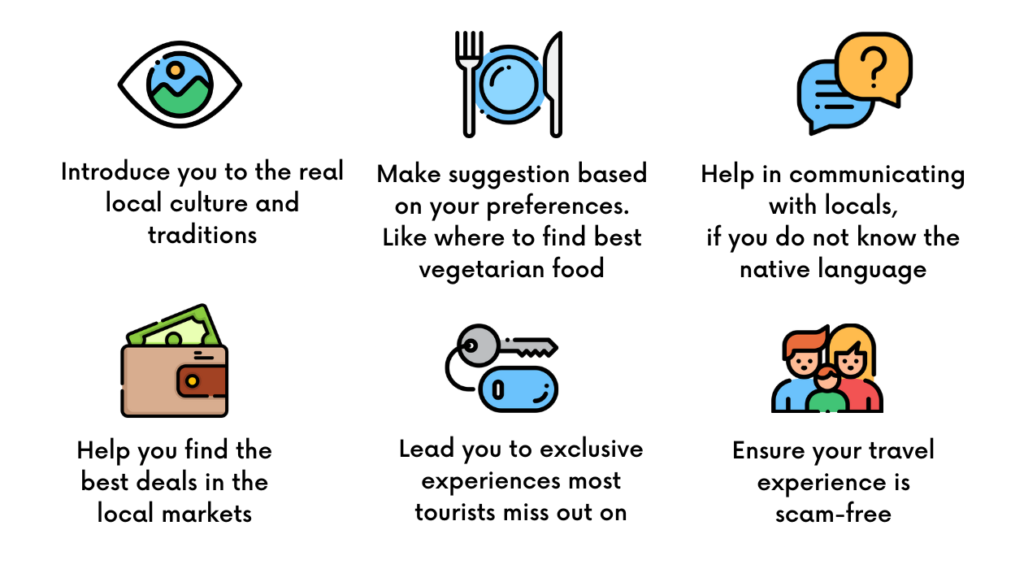 How to find and book a Guide?
You can book a guide when you reach a particular local attraction. Or you can book experiences with local travel guides from our partners Viator.com and getyourguide.com
Both these websites help millions of international tourists from around the world with guided travel experiences to their favorite destinations.
Verified guides – The guides are mostly locals, have a deep-knowledge of their domain and destination and know just what travelers come looking for. The experiences are backed by millions of reviews, so you know you're getting the best.
Book a guided experience you like – Browse through thousands of guided tours and book activities that spark your interest – choose from local attractions, sight-seeing, food & drink, outdoor adventures, unique experiences and more.
Guided tours for every budget – You can filter and narrow your search to find a guided tour you like and pick one that offers the most for best price.
Book in advance – Avoid the last minute hassle of locating and booking a good guide. Book a guided tour in advance. Sit back and relax knowing your trip experience is now in expert hands.
7 Must-See Places in Seville
Alcázar Real de Sevilla – The Real Alcazar of Seville is a stunning palace complex and a UNESCO World Heritage Site – with ornate rooms, courtyards, and halls, each decorated with beautiful tiles, intricate carvings, and stunning architecture. The place lawns are flawlessly maintained and loaded with verdant palms, sweet orange trees, and roses.
Good to know – Book tickets to the Real Alcázar in advance. Note that long entry queues are the norm here. To cut waiting time, it helps to pre-book your guided tour.
Catedral de Sevilla – 'Seville Cathedral' is the biggest Gothic house in Christendom, unmatched in its noteworthy scale and bounty of workmanship. Inside the cathedral, you can explore the nave, which is the longest in Spain, and admire the stunning stained glass windows and beautiful artworks. The cathedral is also home to the tomb of Christopher Columbus.
Barrio Santa Cruz – Arguably the most famous neighborhood in Seville, Barrio Santa Cruz was the Jewish quarter in the medieval era. The neighborhood has a maze of cobblestone footpaths leading to traditional Andalusian houses and stunning inner courtyards filled with colorful flowers, fountains, and intricate tile work.
Museum of Flamenco Dance – Seville is popular for its Flamenco – a colorful fine art with roots in the Gypsy culture. The 'Museo del Baile Flamenco' exhibits the magnificence of flamenco and offers interactive exhibits, live performances, and workshops.
There are also Live Flamenco performance are held in the beautiful courtyard surrounded by orange trees and Moorish architecture. The museum also offers workshops, led by professional dancers and musicians, where visitors can learn the basic steps and techniques of flamenco dance and guitar playing.
Real Maestranza BullRing and Bullfighting Museum – Built in 1761, the Real Maestranza is one of the oldest and most prestigious bullrings in Spain. It is also home to some of the most renowned bullfighting events, including the annual Feria de Abril, which takes place every April.
Visiting the Real Maestranza BullRing gives you the opportunity to see a bullfight. While bullfighting is controversial and not everyone enjoys the sport, it remains an important cultural tradition in Spain and an unforgettable experience.
Museum of Fine Arts – The Museo de Bellas Artes is considered to have the best gathering of paintings in Spain (after the Prado in Madrid). The collection covers a wide range of styles and periods, from medieval art to contemporary works, and includes paintings, sculptures, and decorative arts.
The collection includes works by artists such as Zurbarán, Murillo, and Valdés Leal, and offers visitors a chance to explore the rich and dynamic artistic traditions of Andalusia.
Parque de María Luisa and Plaza de España – The Parque de María Luisa is a large public park located in the heart of the city. Inside the 'Parque de María Luisa', the 'Plaza de España' is one of Seville's most amazing milestones of grandeur and glory. The colossal 50,000-square-meter court is encompassed by the banister balconies of a Renaissance Neo-Moorish style building.
Guests will appreciate a comfortable walk around the park, while finding shrouded astounds en route, for example, lakes and structures. The park is near the waterway and the grounds are laden with palms, orange trees, elms, and Mediterranean pines. Exquisite notable structures and vivid tiled seats add to the marvelous seating with the fancy pools.
Handpicked Guided tours in Seville
Guided tours to attractions & sightseeing in Seville
Guided tours to explore Local Food in Seville
Guided tours to Discover a Unique Seville
Good to know – If you enjoy walking the city streets and by-lanes, Seville will delight you! Even though Seville is the largest city in Andalusia, it is very walkable – you can cross the city center from one end to the other, in approximately 45 minutes. We recommended having a good map or GPS to navigate the alleyways.
Staying Connected on your trip to Spain
When traveling to Spain, it is highly recommended to get a local Spain SIM card that lets you stay connected within an affordable budget. We recommend the Unlimited Spain SIM card, which gives Unlimited locals calls and SMS, 4G / 5G data connectivity, free calls to India and much more. Plus you get a local Spain number – which means you can also enjoy the best local deals in Spain.
You can browse through all the local places to see, plan your day, make reservations at local restaurants, book a local guide and stay in touch with friends and family back home. There are so many ways to make your Spain trip memorable, when you are connected.