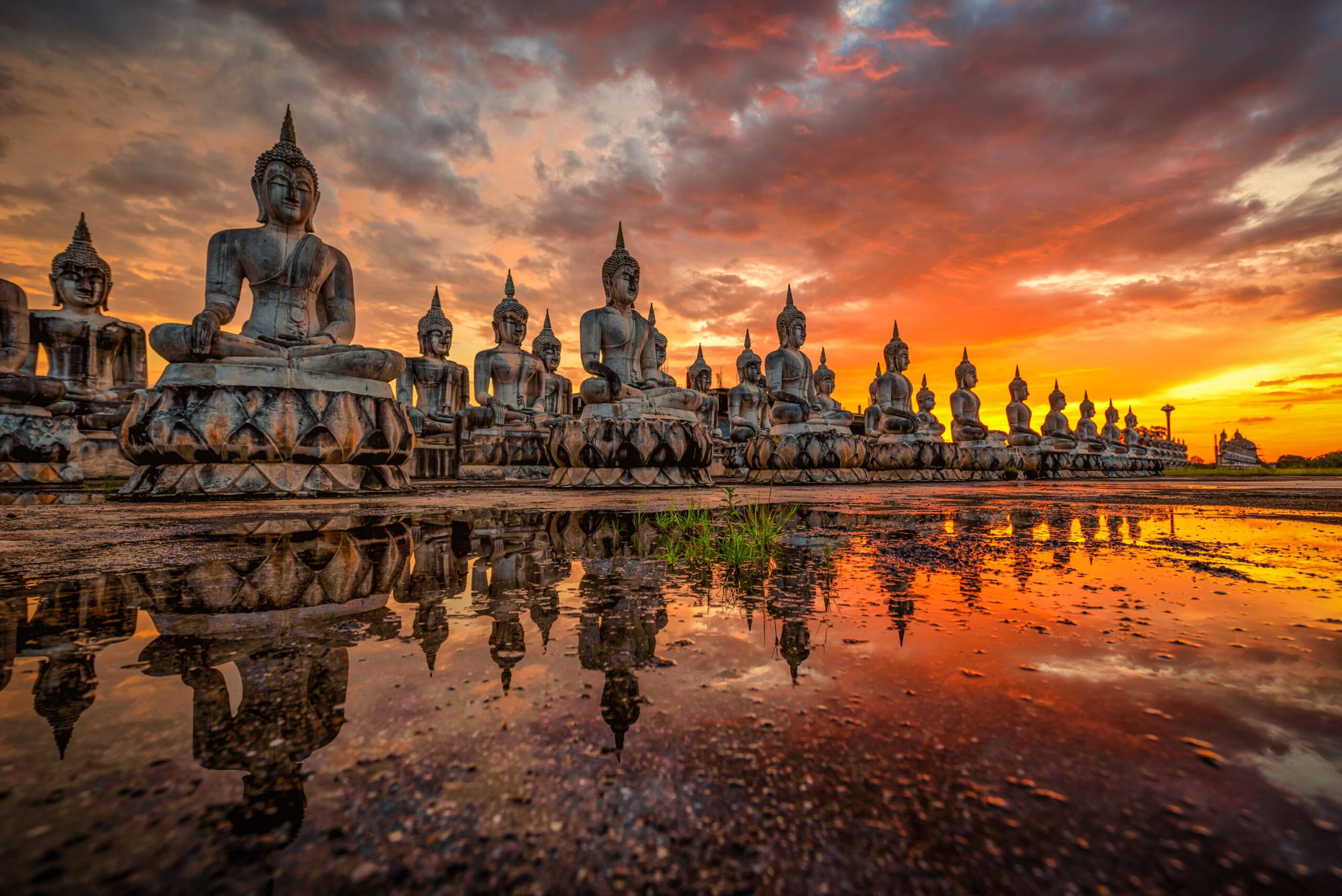 Thailand is known for the warm and welcoming nature of its people. Which is probably why it is also called the Land of Smiles. Another rather interesting reason why so many people visit Thailand each year, is that it is situated in the middle of everything – it is about 3 hours from Hong Kong, 2 hours to Singapore, 4 hours to Bali, and halfway between Australia and Europe. And you can get to many places easily from Thailand.
There is no shortage of things to see and do in Thailand. Known for it's beaches, elephant sanctuaries and the local food, Thailand is also home to hundreds of temples, each with its unique architecture and cultural significance. So we decided to explore Thailand through its rewarding temple culture, before diving into the must-have uber-local experiences.
Wat Rong Khun, The White Temple
A unique design makes Wat Rong Khun one of Thailand's most unusual and visually striking man-made attractions. The White Temple is the creation of Thai artist, Chalermchai Khositpipat, who worked on the project as an act of faith. Chalermchai's aim was to make the temple one of the world's greatest works of art and wanted visitors from around the world to enjoy the labour of love he has undertaken in his home village.
Temples at Ayutthaya
The Buddha head entwined within the roots of a tree is one of the most recognizable images from Thailand. This ancient temple was built during the 14th century, but was reduced to ruins in 1767 when the Burmese army invaded Ayutthaya, the capital of Siam. Later restored in 1950s when the Department of Fine Art began restoration work in Ayutthaya.
Wat Pho and Wat Arun
Wat Pho is famous for the huge Reclining Buddha statue it houses. At 20 acres large, it is the largest Wat in Bangkok, and is technically the oldest too, as it was built around 200 years before Bangkok became Thailand's capital. The reclining Buddha illustrates his passing into nirvana.
Known as Temple of Dawn, Wat Arun is named after the Indian god of dawn, Arun. It was here that, after the destruction of Ayuthaya, King Taksin stumbled upon a small local shrine and interpreted the discovery as an auspicious sign that this should be the site of the new capital of Siam.
Silver Craftsmanship of Chiang Mai
To the south of Chiang Mai's walled Old Town lies the traditional silver-making district of the city. Centering on Wualai Road, this area is dotted with silver shops. The temple here was first founded in 1501 under King Mengrai and given the name Wat Srisuphan Aram. The panels are full of intricate details depicting an eclectic range of subjects ranging from the life of Buddha to comic-book heroes. Most of the work is carried out using aluminum or zinc alloys with precious silver being reserved for the holiest images.
Discovering Thailand like a local
Traveling solo, with family or friends, these curated local experiences are the surest way to explore Thailand and get intimate with its culture and ways.
Thailand has all it takes to be your next international travel destination. "It is a place where a smile is never far away, and the senses are constantly stimulated.." thus wrote John Hoskin, the British Writer who lived in Bangkok for more than 32 years. And we stand by his words.
Make the most of your Thailand trip with TSIM Travel SIMs
Book a tuk-tuk to your next destination, keep your Instagram feed live and buzzing, buy entry passes to your favorite temples online or google what 'Tom Yum Goong' on the local food menu really means! – do all this and more within a data budget fixed by you. Visit TSIM to know more.
"Worked like a charm on landing in Phuket. Just inserted the sim before landing and removed airplane mode. Immediately all messages and WhatsApp texts started flowing in. In my second hotel in Phuket, my phone would not connect to wifi due to certificate issues. All the 4 days I used 4G and it lasted easily. 100% recommended for Thailand visitors" – Sailesh